Welcome to Robot Platform
This site is dedicated to share knowledge about robots and electronics, and enjoy some serious fun.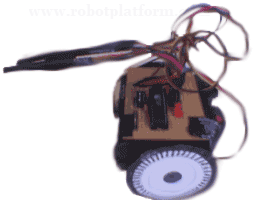 You do not need to know everything about electronics to make robots. I will try my best to make sure everything in this site is described in an easy-to-understand manner, so that anyone can build robots. Once you decide to build your own robot, believe me you would start loving it.
Practice whatever you learn and understand what you want to do. Tie a couple of LED's together, make it blink and show it to your mom, or your beloved ones. This is one the quickest ways to get appreciation and feel proud. Later, spend long nights fixing a bug in your program, soldering wires, planning your robot etcetera, etcetera..
What are the guidelines?
No boundaries, No guidelines. Walk through the site at your mind's pace. Understand how things work and start off. If you are stuck, consider one of the following options.
Direct your questions in the forum
Ask a loyal friend
Sip a drink, lie down peacefully, and try finding a solution.
All it matters is putting your ideas on a paper and start making what you want. If you are reading this, you know where to start. Read the articles and understand the basic concepts and give it a head start.
If you do not know where to begin with, start reading about basic electronics, then learn the different hardware and software tools used. Finally start building your robot as described in How-to section. Knowledge is another section which provides a concrete theoretical background to these basics.
Also, if you are not a member yet, consider registering in the forum.
If you feel this site has helped you, kindly link back. Lastly, if you feel you need some reference books to learn more about robotics and electronics, visit our reference section, under knowledge section to see a list of suggested reads.
Happy Navigation!!!
Do you have anything to say?
Visit the Forum to discuss, learn and share anything related to robotics and electronics !!