Cables
Cables get their name due to their larger size and are no different than stranded wires. Two or more wires are braided or twisted together and wrapped within a jacket and called a cable.
There are different types of cables manufactured based on their requirements.
Twisted Pair Cable
As the name suggests, two conductors are twisted together to make a Twisted Pair Cable. One acts as a forward and the other as a return conductor in any circuit. Since both the conductors are insulated and twisted within a jacket, this design reduces interference from external sources. This cable is specifically intended to carry signals and was used in early telephonic systems. There are two types of twisted pair cables:
Unshielded Twisted Cable: Commonly known as UTP's, is the most common type of twisted pair cable. In this type, each pair of wires are twisted together to make a four sets. Each set has a different number of twists per inch to reduce interference from adjacent pairs and the over all design reduces interference from external devices.
Shielded Twisted Cable: STC's or Shielded Twisted Cable uses the same design as UTP's. However there is an additional insulation over each pair of wires. This provides a tight bond between the two wires within and provides the best protection from interference, either adjacent pairs or external devices. A special variety of STC, known as Screened STC is also available which uses a metal shield over each set of wires and also an outer metal shield covering the whole set of wires.
Coaxial Cable
This is another variety of cable, also known as Coax. Coax has a conductor surrounded by an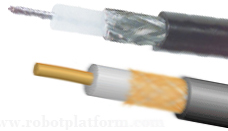 insulating layer. The inner conductor is sometimes silver plated to increase performance. This insulating layer is again surrounded by another conducting layer around it. The whole tube like structure is again insulated with another layer. These kinds of cables are mostly used to transmit radio frequency signals. Coaxial cable frequency can range from few megahertz to 18-20 Gigahertz. As technology advances, this range can increase even more. They are best seen around for transmitting cable television signals. Coax is just like any other electrical cable where there are two conductors. One for the forward current and the other to return.

Coaxial cables will have a special type of connectors at both ends of the cable specially designed for them, as shown in the figure.
Do you have anything to say?
Visit the Forum to discuss, learn and share anything related to robotics and electronics !!